Are you using web pop-ups and banners in the optimal way? Or might your existing data capture devices have gone a bit stale?
Do you know if banners are the most effective way to drive sign-ups or might pop-ups work better?
Should you display the data capture device when a shopper comes to your website or could it be effective when the shopper intends to leave your site?
Are you missing out on opportunities to enrich your existing data through data capture lifecycle campaigns?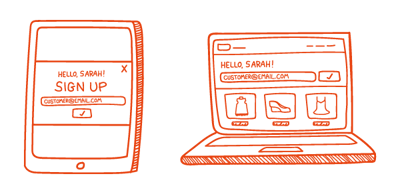 The size and richness of your email database is essential for your eCommerce success. Let our experienced Professional Services consultants help you design and optimize a data capture strategy that's tailored to your business and individual goals.
We will help you identify and implement the most effective ways to add more subscribers to your list, enrich existing data and ultimately drive more email revenue.